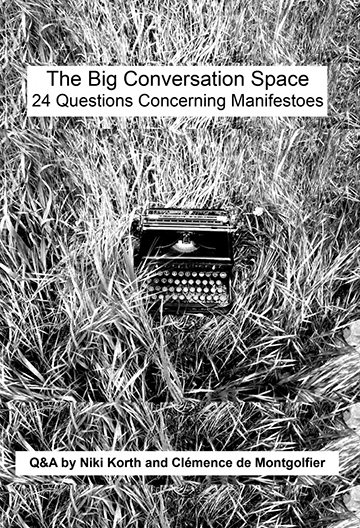 24 Questions Concerning Manifestoes
Self published in 2011, print-on-demand, available as a soft cover publication at here or a free PDF here.
This book was written at the occasion of the exhibition MANIFESTOES, curated by Melanie Kress at Concrete Utopia Project Space in Brooklyn, New York in 2011.
In 24 Questions Concerning Manifestoes, TBCS creates a discursive manifesto about/against manifestoes through discussing a range of questions on the topic, including:
Could a Manifesto exist without words? What do we want from a Manifesto? To change the world? Proclaim the self? Glory? Feedback? Do we need to define what we want and what we claim in order to be a group? Do we even need to want and claim anything? Could a non-dogmatic Manifesto possibly emerge in the quasimilitary social structure of a starship crew? Could space travelers/space travel be the antidote to the restless, revolutionary-focused (and thereby unfocused) energy of our generation?