Office Work
Office Work was a social practice project by Carrie Sinclair Katz, Jon Gourley, and The Big Conversation Space (Niki Korth and Clemence de Montgolfier) that took place at StoreFront Lab, in San Francisco from April 4th – 25th, 2015. Visit the official Office Work website here.
Office Work recognized the so-called Kulturkampf ongoing in the San Francisco Bay Area and aimed to use the jargon of 'work spaces' to forge a common understanding, welcoming visitors through asking:
"Did we put an office in the gallery, or a gallery in the office? Come see for yourself. Through events, interactive departments, and participatory archives, we repurpose the vocabulary and technology of the office and contemporary art in order to facilitate encounters with the human side of work, the absurd side of labor, and the creative side of knowledge."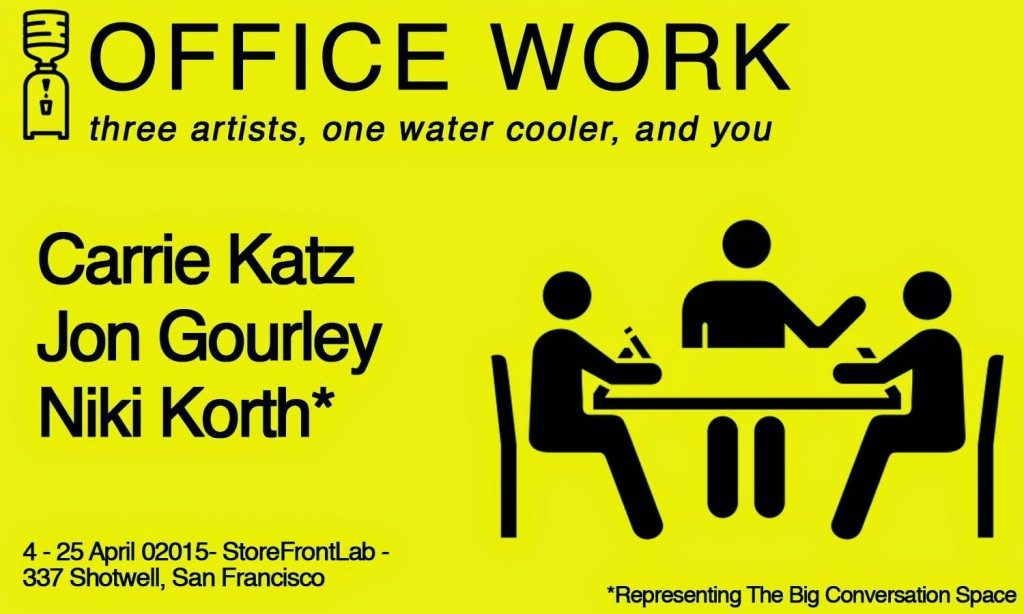 Events
April 5th – Wikipedia Edit-a-thon: Art + Bureaucracy
Participants learned about Wikipedia's guidelines and how to edit Wikipedia to help improve articles about art, offices, art and labor organizations, bureaucracy, systems, public art, workplace behavior, and more.
April 17th – Meeting About Nothing
After Samuel Beckett wrote 'Nothing is more real than nothing,' (Malone Dies 1959), the (f)utility of modern office meetings has undergone a dramatic shift. Or has it? In efforts to analyze the current state of Nothing, an emergency meeting has been called, which includes presentations by local experts on Nothing: Daniel Yovino, Leora Lutz, Sesh Mudumbai, Jon Gourley, and Niki Korth.
April 22nd – Office Birthday Party
The offices of Gourley and Korth are both celebrating their birthdays, and everyone is invited to the party to enjoy sheet cake and mingling around the water cooler.
For Office Work, TBCS commenced the Journal Of Bureaucratic Stories (JOBS), an ongoing narrative collection project. 
Concept
Every workplace has a legend, and no story is too mundane
JOBS is an interactive archive and production platform that is collecting narratives involving bureaucracy, offices, studios, libraries, and other places of work for archival purposes and eventual publication in the peer-reviewed Journal of Bureaucratic Stories.
JOBS aims to collect and grow narratives that are donated in the gallery space by willing participants. Narratives sought include stories, legends, tales, myths, or anecdotes that feature bureaucratic experiences or offices, archives, libraries, studios or other ¨places of work" (broadly defined) as element(s) of their subject matter.
How does it work, what will happen with the files?
Narratives are donated through a conversationally-based delivery system to a representative of JOBS who will transcribe them in annotated form in real time. The resulting document is then filed and made available to future participants who may help to grow them independently or through consultation with JOBS by posing new questions via written addenda.
Eventually, the collected stories will be rendered in prosaic form in the official, peer reviewed Journal of Bureaucratic Stories.
How exactly does the "donation of the narrative" work?
Someone comes in and shares a legend/story/tale with the JOBS representative. Notes are then diligently taken by the JOBS representative on the official JOBS intake form, which helps to break the story down into narrative elements for easy historical storage.
Following this is an optional "addendum stage" where viewers/readers of the archive are invited to read these notes and question "what is missing" (i.e., the protagonists age, what time of day the story happened, how big the room was, what year it was, how ripe the mango was, whatever comes to that person's mind, etc.), and note these inquiries/comments as an addendum. These addenda will then be collected in the same file, available to be referenced by future participants, and the cycle will continue.
Here are some sample excerpts from the documents collected during Office Work: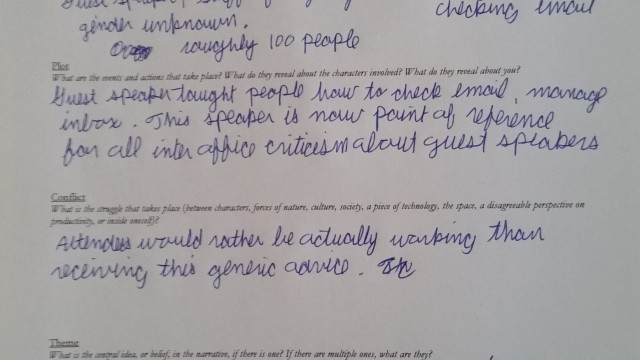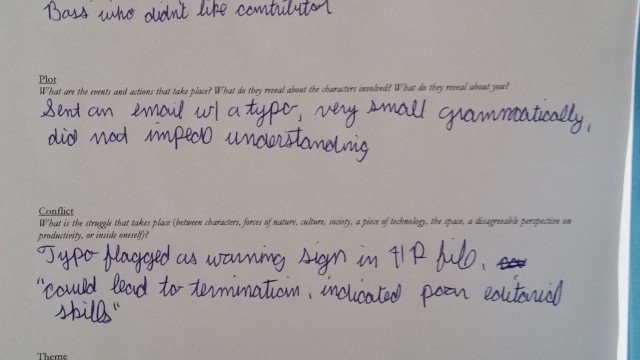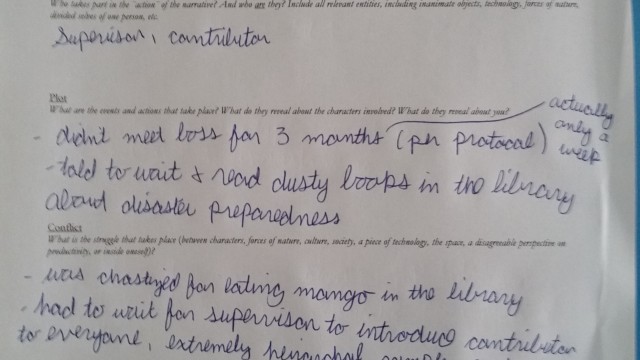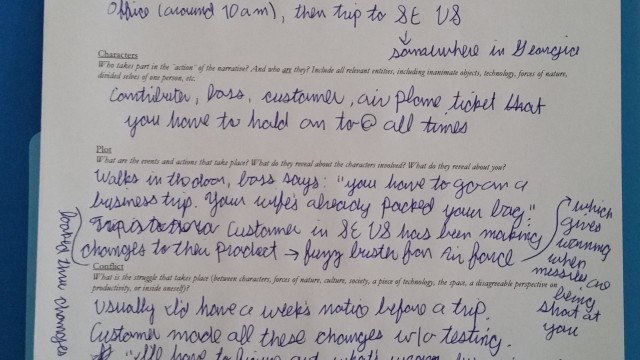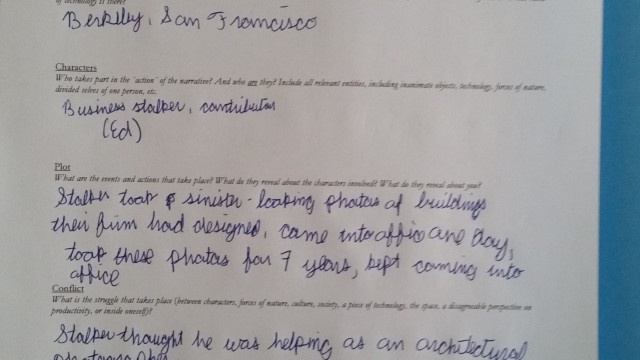 Installation and event views :