DIY Salon – I Can Do Anything Badly
On Friday 13 February 2015, TBCS organized a Creative Commons DIY salon at Park Life Gallery. The salon featured local artists who celebrate inexperience, sharing culture, and self-taught expertise in projects ranging from publishing and printmaking, to web-based collaborative music communities, to building open source libraries and visualizations.
The salon also celebrated the San Francisco launch of I Can Do Anything Badly 2: Learning By Doing is a Shared Responsibility, a Creative Commons licensed artist's book by Hoël Duret & The Big Conversation Space, designed by Frédéric Teschner, which features conversational interviews in English and French about DIY culture; from computer programming and independent publishing, to Wikipedia and furniture design. Read the book online here.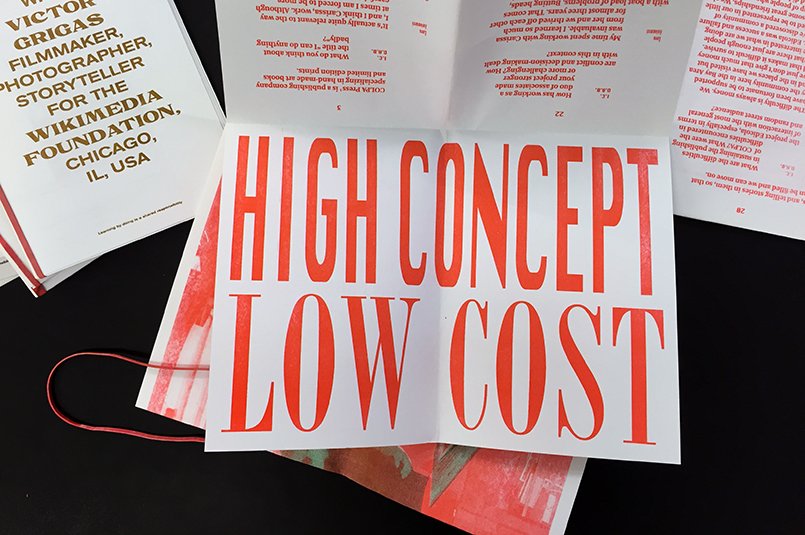 Featured speakers at the Salon:
Marc Weidenbaum founded the website Disquiet.com in 1996. It focuses on the intersection of sound, art, and technology. His book Selected Ambient Works Volume II, about the Aphex Twin album of that name, was published by Bloomsbury in 2014 as part of the 33 1/3 series. He has written for Nature, the website of The Atlantic, Boing Boing, Down Beat, and numerous other publications. His artwork has been exhibited in the San Jose Museum of Art; Gallery of Light DUCTAC, Dubai; Crewest Gallery, Los Angeles; and apex art gallery, Manhattan. He initiated and moderates the Disquiet Junto group, where since 2012 musicians respond on SoundCloud to weekly Oulipo-style restrictive compositional projects. Since 2012 he has taught a course he developed on the role of sound in the media landscape at the Academy of Art in San Francisco, where he lives.
Originally from Minneapolis, Carissa Potter lives and works in Oakland, California. Her prints and small-scale objects reflect her hopeless romanticism through their investigations into public and private intimacy. Speaking both humorously and poignantly to the human condition, Carissa's work touches chords we all can relate to – exploring situations we've all experienced at some point in our lives and conveying messages we simply long to hear. Carissa Potter is a founding member of Colpa Press and founder of People I've Loved. Since 2010, she has been an artist in residence at Kala Art Institute in Berkeley, where she teaches letter­press. She also serves as a mentor in Southern Exposure's One-on-One Mentorship Program. Carissa received her MFA in Printmaking from the San Francisco Art Institute in 2010.
Mahmoud Hashemi is lead developer of the Python Infrastructure team at eBay/PayPal, where he focuses his development and instruction energies on service frameworks, API design, and system resiliency. Outside of work, he enjoys coding on his open-source projects, as well as creating and maintaining several Wikipedia-based projects, such as Listen To Wikipedia and The Weeklypedia.
Luca Nino Antonucci lives and works in San Francisco, California. He received his MFA from the San Fracisco Art Institute in 2010 and is a resident artist at Basement. He is editor and co-founder of Colpa Press, an independent publishing company specializing in art books. He has exhibited his own work widely in San Francisco, New York and Berlin.